Mayhill Volunteer Fire/EMS Department is staffed by a highly professional volunteer group of men and women dedicated to the safety of our community and consists of a main station and three substations, serves an area of 150 square miles of high mountain and mountain valley terrain in the Sacramento Mountains of southern New Mexico. We have a resident population of 1701 people and are growing at a staggering rate of 5% per year.
Mayhill Fire District is surrounded by National Forest, Bureau of Land Management, state land, and Mescalero Apache land, bringing a large tourist population of 50,000 to 100,000 each year, taxing the fire personnel and resources of Mayhill VFD. Within 35 miles of our main station, there are seventeen public campgrounds and five private campgrounds with 821 campsites available on any given day. Our district also has three large church/private retreat camps, as well as three others in adjacent mutual aid districts.
Mayhill VFD provides automatic mutual aid for structure and wildland fire calls for six contiguous fire districts, adding 802 square miles to our response district. We are also placed on automatic standby for another 1916 square miles directly to the southeast of us. Mayhillís first response fire district protects critical infrastructure, in particular three propane storage yards, radio repeaters on the mountains, state and county highway equipment yards, regional weather station, and a U.S. Forest service facility with their communication and weather gathering systems.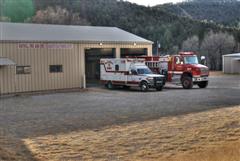 Main Station
Mayhill